International Virtual Conference 2021: Technologies & Language Education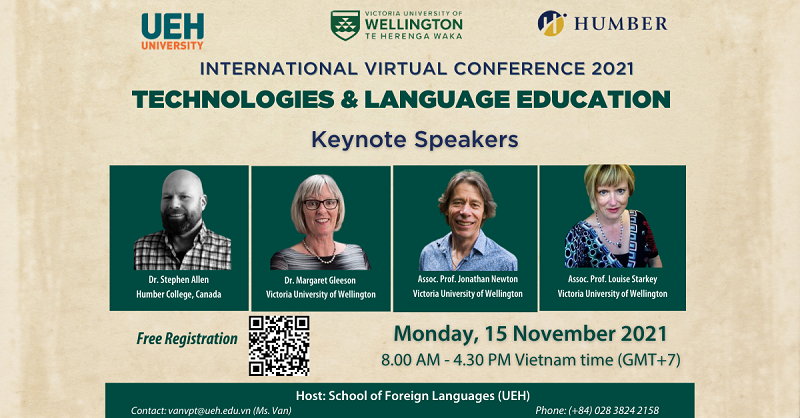 Hosted by School of Foreign Languages, University of Economics, HCMC
Date: 15 November, 2021
Time: 8.00 AM – 4.30 PM  Vietnam Time (GMT+7)
Topic: Technologies & Language Education
Platform: Cisco Webex
Registration link: https://forms.gle/tCtEZ2Lc6FhTbMwf7
Assoc. Prof. Louise Starkey, School of Education, Victoria University of Wellington, New Zealand
Assoc. Prof. Jonathan Newton, School of Linguistics and Applied Language Studies, Victoria University of Wellington, New Zealand
Dr. Margaret Gleeson, School of Education, Victoria University of Wellington, New Zealand
Dr. Stephen Allen, Humber College, Canada
Note:
- E certificate will be issued for participants
- Free Registration
- Invitation letter, detailed agenda & meeting link will be sent out to the registered participants at least 3 days before the conference.
More information about Keynote Speakers:
Dr. Margaret Gleeson, School of Education, Victoria University of Wellington, New Zealand
Margaret Gleeson has a background of more than 30 years in teaching, initially in curriculum English at secondary school and later specialising in teaching emergent bilingual adults and students. She has taught New Zealand-born students and also migrants, refugees and international students at secondary and tertiary level.
Since joining VUW, she has worked with teachers in secondary schools as an ESOL and Pasifika literacy advisor. She is currently involved in teacher education as a lecturer in the field of educational linguistics: specifically preparing student teachers to teach emergent bilingual students in mainstream classes.
This focus on teaching language as well as subject content has application for secondary and tertiary teachers in South East Asia. It is especially relevant to those who are adapting to an enviornment where English is used as the medium of instruction (EMI).
Assoc. Prof. Jonathan Newton, School of Linguistics and Applied Language Studies, Victoria University of Wellington, New Zealand
Jonathan Newton is Associate Professor and Programme Director for the Master of TESOL and Master of Applied Linguistics programmes at Victoria University of Wellington, New Zealand. In his career in language teacher education, he has worked alongside teachers from many countries to better understand classroom language teaching and learning, especially in relation to task-based language teaching (TBLT), teaching listening and speaking, teaching vocabulary, and teaching for intercultural capabilities. He has published more than 70 book chapters/articles and five books: Teaching ESL/EFL listening and speaking (2021), Using tasks in language teaching (2021), Teaching English to second language learners in academic contexts, (2018), Workplace talk in action: An ESOL resource (2010), and How to teach speaking (2021)
Assoc. Prof. Louise Starkey, School of Education, Victoria University of Wellington, New Zealand
Louise Starkey is an Associate Professor at the School of Education, Te Herenga Waka, Victoria University of Wellington. She gained experience as a classroom teacher, curriculum leader and senior manager in a range of New Zealand secondary schools prior to following a passion to research education in a digital age. Louise is interested in complexity theory, educational policy and practice associated with teaching and learning in the digital age. Her research examines both the schooling and university sectors. Current research includes learning environments for a digital age, higher education post COVID-19 and preparing student teachers for the digital age.
Dr. Stephen Allen, Humber College, Canada
Stephen Allen, as an educator and administrator, is most animated when creating organisational and instructional systems that support professional development and access for all types of learners. With over 25 years' experience as an educator and administrator, he has worked in the private and public sector on three continents and has partnered with organisations and individuals in knowledge building solutions and finding innovative and engaging techniques for supporting individuals in their learning and professional needs. 
Accompanying his experience, he is a Doctor of Education Candidate researching networked-based online teaching and learning systems. He also hold an MA as well as a Graduate Diploma in Distance Education Technologies.
He believes that when people work with other people to learn anything, not only are they bringing all their life experiences with them, they are also confronted with a new context, new ideas, and new ways of being and doing. His passion is to support people while together they build new skills, competencies, insights, and ways of doing that achieve results organisationally as well as personally.
If you have any questions about the conference, please email us at vanvpt@ueh.edu.vn or contact us by phone: (+84) 28 38295635.
Regards,